Covid, Visits, Books & Patrimony
Douai Abbey: The Monastery of St Edmund, King & Martyr
» Douai's
guesthouse
will be reopening on
6 October
, with some limitations, on 6 October. If you would like to visit or need more inforation please contact Fr Oliver by
email
or call him on 0118 971 5399.
From 13 September the Sunday 11am conventual Mass will be opening again to a congregation,though it will be restricted in number in line wth current guidelines to minimise Covid risk. If you need further information, again please contact Fr Oliver.
» Our Fr Edmund has been visiting Douai from Rome as he prepares to assist the Abbot President for the quadrennial visitation of Ealing Abbey, which begins today. Fr Edmund is the abbot emeritus of St Paul's-outside-the-Walls in Rome and currently is director of priestly formation at the international Benedictine house of studies in Rome, Sant'Anselmo on the Aventine Hill. Please keep the community at Ealing Abbey, and the Visitors, in your prayers.
» Today also is the official publication date of Fr Hugh's new book,
A Limerickal Commentary on the Second Vatican Council
, brought out by the Canadian Catholic publisher, Arouca Press. Fr Hugh has edited and annotated a typescript of witty limericks written during the Council by mainly English bishops, though the most prolific limericist was in fact an Australian bishop. They touch on people, issues and events at the Council and the notes identify and explain these where necessary to allow for a full enjoyment of each limerick. Alongside the English limericks are their translations into Latin by Bishop Bernard Wall, who was at that time Bishop of Brentwood. The books can be
ordered direct from the publisher
, who can supply copies locally without need for international postage, and thus deny Mr Bezos at Amazon a tiny fraction of his huge income, though the book is on sale with
Amazon
too. The UK price is
£11.99 for dustjacketed hardback (below left), and
£6.99 for softback (below right).
» For nigh on two years Br Aidan has been compiling an electronic inventory of the community's various paintings, a labour which he has finally completed. The inventory will be an important record of what we have and will be especially useful for insurance purposes.
» Last Friday Fr Hugh collected from Ormsby of Scarisbrick the crozier (detail below) of Archbishop Benedict Scarisbrick OSB (1828-1908). It had been undergoing much needed restoration. Archbishop Scarisbrick was one of several Douai monks who served as bishops of Port Louis in Mauritius. Not long after his retirement he was raised to the personal dignity of archbishop. The crozier can now be returned to use and is an important piece of the community's history and patrimony.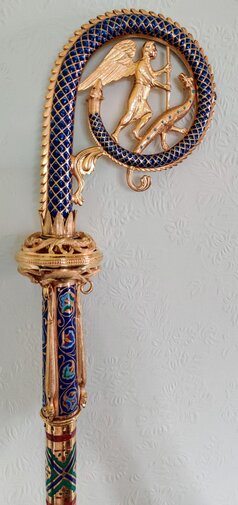 » On Saturday, 5 September a number of the community joined the online talk given by Fr Timothy Radcliffe OP, former Master General of the Dominicans. The talk is one of a series sponsored by the EBC Continuiing Formation Committee.