Easter, visitors, & new Mass times
Douai Abbey: The Monastery of St Edmund, King & Martyr

» 27 pilgrims stayed in the guesthouse for the weekend. They are all associated in different ways with schools run by the Good Samaritan Sisters in Australia. Some were headteachers or deputies, others were involved in administration and governance. The Good Sams, as they are known, were founded in 1857 by the English Benedictine Bede Polding, a monk of Downside and the first archbishop of Sydney. Three of the sisters formed part of the group.
The Sisters and their lay colleagues have always been very conscious of their English Benedictine legacy and have visited us on various occasions in the past. Fr
Oliver
gave them a tour of the abbey church and the library, and Fr Alban spoke to them about the English Benedictines and Australia. They had been at Ampleforth before coming to Douai and then moved on to Downside for Mass and a tour of the library there. They will head to Rome for the last week of their pilgrimage.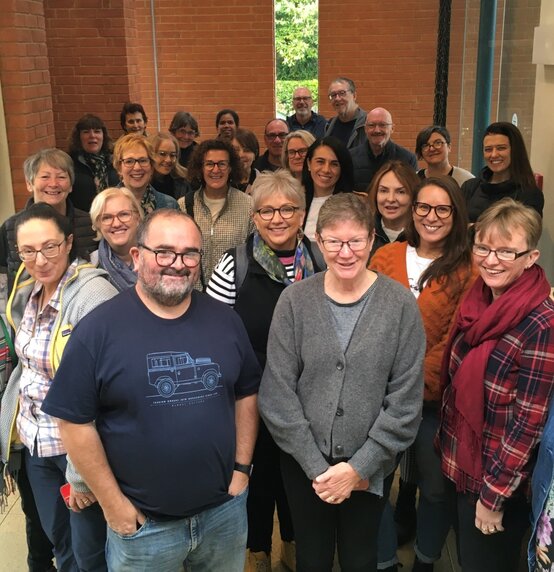 » The guesthouse was full for the Holy Week/Easter retreat, which was led by Dr Caroline Farey, a well-known theologian and an old friend of the community. We were particularly pleased to see that over 140 people attended the Easter Vigil, including retreatants, parishioners from every part of the parish, and others from further afield. The paschal candle (below) was decorated by Marion Hill, a former parishioner of Pangbourne and one-timeHead of Art in the former Douai School.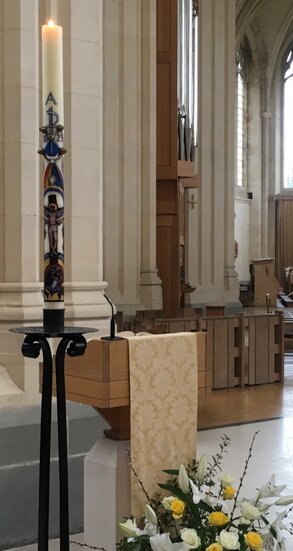 » The Sunday Mass at 8.30am in St Mary's at Douai will cease from Sunday 30 April. From Sunday 7 May the conventual Mass in the abbey church will move from 11am to 10.30am.