Conferences
What we do > Hospitality
Located on high ground in the Kennet Valley just north of Berkshire's border with Hampshire, and roughly halfway between Reading and Newbury, Douai Abbey is within easy reach of these towns as well as of London, Oxford, Bracknell, Winchester and Basingstoke. Our local railway station, Midgham, is a mile away, bordering the A4 /Bath Road.

Our conference facilities can accommodate both mid-week and weekend in-service training or conferences, from a half-day to several days in length. There are three conference rooms of varying sizes, the largest holding 30 people in a more informal arrangement, or 50 seated in rows. Two conference rooms have built-in powerpoint projectors and interactive whiteboards. The smallest conference room holds about 16 people comfortably, and is located in a more discreet part of the monastery, with its own tea & coffee preparation area and a smaller 'break-out' room next door.
Our quality catering (the kitchen was recently rated at 5 stars by the local authority) and a dedicated guest refectory that seats 48 are available for our conference guests. In warmer months and clement weather a pleasant courtyard is also available for relaxing or chatting. As well as offering full meals, the kitchen can provide snacks and finger food, ploughman's lunches, or soup & bread & cheese, according to your needs, as well as tea, coffee and juices.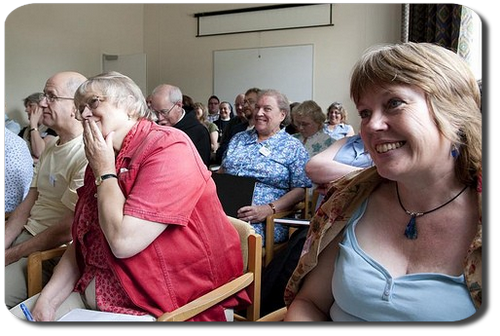 **NB - All guests and visitors are expected to abide by the rules of the monastery and guesthouse, and we reserve the right to refuse anyone admission. All persons at Douai - monks, staff, and other guests - should be treated with respect at all times. From time to time minors may be staying at Douai. Please feel free to check with us and arrange an alternative date if you prefer.