Our Liturgy
What we do > Worship
The Work of God is structured around the communal celebration of the Divine Office, or Liturgy of the Hours, which itself structures the monastic day. In fact, it is the defining 'work' of the Benedictine monk. At Douai, the psalms, hymns and canticles of the various offices are all sung. Most offices at Douai are sung primarily in English, except for Vespers which is always sung entirely in Latin, using Gregorian chant.

The monk strives to recognise that he is always in God's presence in this life. This recollection of God's veiled presence is part of his preparation for that day when he will abide in God's presence forever, seeing Him as He really is. The monastic office is, at its heart, a spiritual experience, and something more than a performance. St Benedict sets great store by the reality of God's presence in the Divine Office.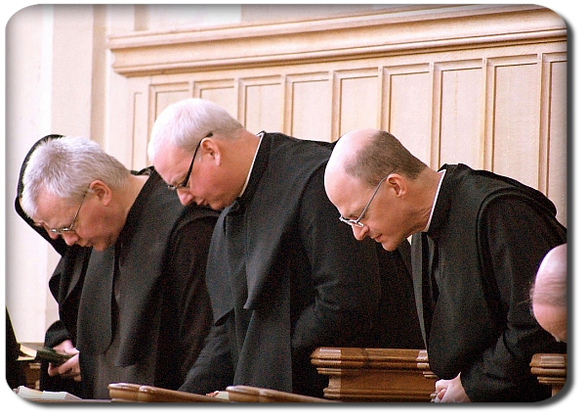 "We believe that the divine presence is everywhere and that 'the eyes of the Lord are looking on the good and the evil in every place' (Prov. 15:3). But we should believe this especially without any doubt when we are assisting at the Work of God... Let us therefore consider how we ought to conduct ourselves in sight of God and His angels, and let us take part in the psalmody in such a way that our mind may be in harmony with our voice."
Rule of St Benedict, 19
All the monastic offices and Masses in the abbey church at Douai are open to the public, as well as to our resident guests. The timetable for the monastic worship at Douai is generally as follows: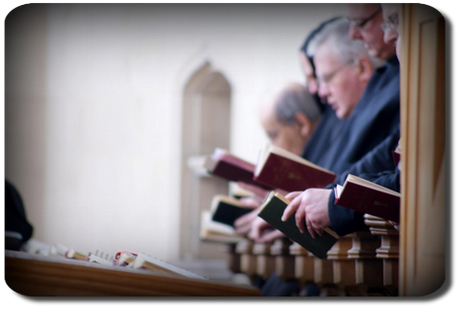 | | | |
| --- | --- | --- |
| Weekdays | | |
| | | |
| | | |
| | | |
| | | |
| | As above but, | |
| | | |
| | | in private |
Just as the monastic day is framed around the Divine Office, so too the Office itself is ordered to the supreme act of worship, the Sacrifice of the Mass. The Office is a sacrifice of praise which elaborates, in the life of the Church, the perfect praise of the Eucharistic Sacrifice. Central to our celebration of the Mass is the reverent prayerfulness of Gregorian chant.
We also have a lay choir, the Douai Abbey Singers, which regularly contributes to our worship, especially on the greater feasts. You can pay a visit to their page - new singers are always welcome to apply to join.