The Cottages
What we do > Hospitality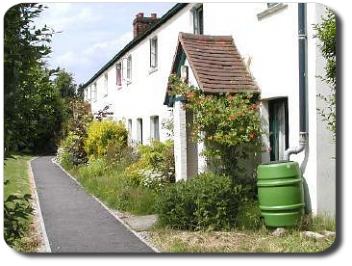 For small groups of young people on retreat, or families seeking budget-priced holiday accommodation, or for student or chaplaincy groups seeking simple, discreet, flexible and accessible accommodation, Douai makes available the Cottages – in fact, three former workers' cottages made into one.
Up to 15 people can sleep in simple, hostel-style rooms, with a down-stairs bedroom for group leaders or parents. For a small fee bed-linen and towels can be supplied. There is a versatile eat-in kitchen allowing full self-catering, with separate dining room and washing-up area. Shopping is not difficult with several supermarkets within a few miles of Douai. For guests without independent transport, it is possible to order online from major supermarkets and have deliveries made to the cottages.

The showers are modern and there are several toilets throughout the building. There is central heating throughout, a dishwasher and a washing machine. A good-sized lounge room with doors into a large, fenced private lawn makes for a pleasant place to relax.
**NB

- All guests and visitors are expected to abide by the rules of the monastery and guesthouse, and we reserve the right to refuse anyone admission. All persons at Douai - monks, staff, and other guests - should be treated with respect at all times.

From time to time minors may be staying at Douai. Please feel free to check with us and arrange an alternative date if you prefer.