Inching towards normality
Douai Abbey: The Monastery of St Edmund, King & Martyr
» Another of Fr Oliver's Covidtide projects has been to clean and revive the carving of St Benedict by David John, commissioned for the 1500-anniversary of the birth of St Benedict in 1980. It is sited on the outside wall of the monastery reception area. Much dulled by weather and time, it now exhibits its original vigour. Do pay Fr Oliver a compliment if you see him!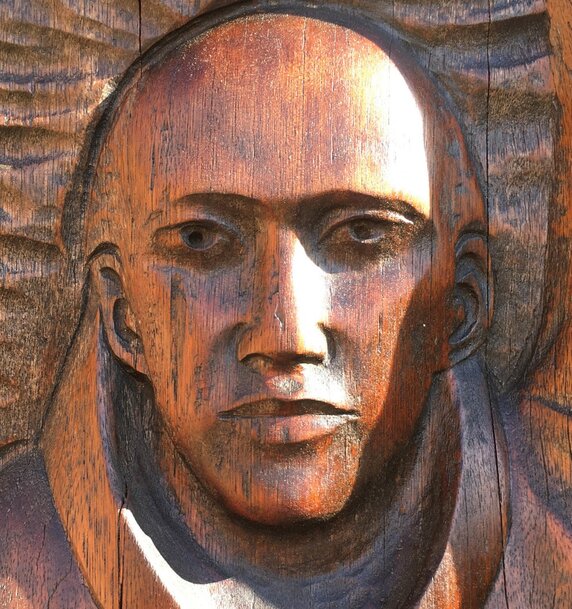 » The resident community has been reassessing the restrictions employed at the monastery in light of recent government changes to national guidelines. As a result the guesthouse will be re-opening for limited numbers from 18 May. If the government maintains its roadmap out of Covid, there will be a full re-opening of the guesthouse from 22 June. Please
email Fr Oliver
in the Guesthouse if you would like more information. In recent days we have been able to welcome guests back to the Cottages. Slowly but surely light has emerged at the end of the Covid tunnel.
» On 5 May the abbot's council met, with our financial advisors and investment managers joining by Zoom for part of the meeting. Despite the full load on the agenda, it was a positive and productive meeting.
» On 6 May, Fr Abbot attended an online conference for the superiors of religious congregations on safeguarding, chaired by Fr David Smolira SJ. The monastery is actively preparing to join the One Church safeguarding protocol established in the wake of IICSA.
» Several crates of rare books belonging to Colwich Abbey have been sent up from Douai to their new home at Stanbrook Abbey. This is the first of a number of shipments to come. Colwich Abbey's community is now integrated with that of Stanbrook.